Not a lot of people are aware of the fact that the Levellers scored more gold and platinum than any other act during the 90's. After a string of folk-rock masterpieces and hit singles in that golden decade, the 2000 album 'Hello Pig' left some fans disappointed, despite gaining some ironically good reviews from the critics. A complete lack of support from their record label meant that the album also performed poorly in comparison to the sales of its predecessors, and despite the record eventually going gold, the band parted company with their label and opted to return to their roots. The days of hit singles were seemingly over and the band were left completely disillusioned by mainstream success and in particular the music industry suits who bleed artists dry and then dispose of them.
But if any band was to succeed by doing everything themselves then it would be the Levellers, who returned to their grass roots ideals and began releasing music through their own label. 2002's 'Green Blade Rising' was only a return to form but also saw the band re-embracing their more traditional sound. Although 2005's 'Truth And Lies' was a let down musically, the Levellers were now veterans of the gig and festival circuit, their live performances consistently improving with every year. 2008 saw the group release their finest album in at least a decade, the excellent 'Letters From The Underground' which signalled a return to the political punk-folk sound of the band's vintage material and landed in the UK album charts at number 24. Now regarded in some quarters as national treasures, the band have spent the last few years continuing to thrill audiences with their incredible live shows, as well as hosting their own very successful Beautiful Days festival each year.
After a solo album from singer Mark Chadwick and a side project from co-frontman Simon Friend, the band have returned with a record that demonstrates an outfit at the top of their game. 'Static On The Airwaves' is their 10th studio album and possibly their finest work in over 15 years. Beginning with a short, apocalyptic title track that sets the tone with its talk of 'RPGs and sulphur clouds', this is a record that mourns the passing of an age, often occupying itself with the hollowness of the modern world and the death of traditional values. 'We Are All Gunmen' is a magical moment where the bass is dangerous and smart, the violin is wonderfully haunting and the vocals supplied by Simon Friend are delivered with dogged passion. Imagining a world without injustice, it rises into one of the album's most anthemic choruses that tells of "fighting at the beacons to bring our riders home".
Parts of this album do represent a further step towards maturity, but the raging fire and rebellious spirit is still there burning bright in tracks such as 'Truth Is', an infectiously upbeat attack on capitalist greed that also comes with a reminder to the fat cats not to take the work of the lower classes for granted and to beware of people-power. The ridiculously catchy fiddle hook provided by Jon Sevink recalls 1991's classic 'Levelling The Land', and ensures that many fields full of people will be bouncing around to it this summer.
'After The Hurricane' represents a group thoroughly comfortable and confident with their sound, as the charming gentle breeze of the verse carries into the majestic windswept drama of the chorus. 'Forgotten Towns' is built around an urgent fiddle part, ominous bass and Mark Chadwick's vocals painting images of communities abandoned by the system and declining high streets. On tracks such as 'Alone In The Darkness' the instrumentation is a touch more subtle, and there is certainly more breathing space in the music. The verse is the Levellers at their most sublimely delicate, sailing into a yearning anthemic chorus lit up by another excellent vocal from Simon Friend.
'No Barriers' demonstrates how nearly 25 years of recording and performing has well and truly paid off, as they lay out another powerful number. 'Raft Of The Medusa' is an infectious sea shanty with another majorly catchy chorus and a verse resembling a more steadily-paced relative of 'Dirty Davey', while 'Mutiny' brims with more defiant passion, telling the tale of Jesse Robert Short, a British troop involved in the 1917 Étaples Mutiny in France. 'Traveller' proves they haven't lost their knack for simple acoustic arrangements and direct melodies, while 'Second Life' seems to be a critique of virtual reality computer games, backed by another vibrant musical revisiting of the band's classic sound circa 'Levelling The Land'.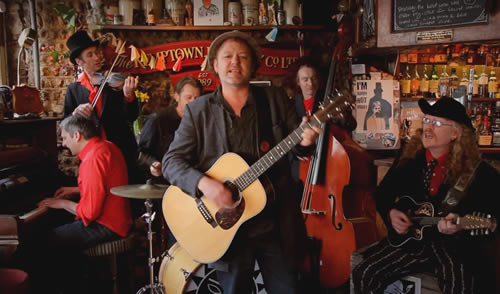 In places this album moves further towards more traditional folk rather than the punchy punk-folk and rock leanings of their output in the 90's. Take for example the excellent closing number 'The Recruiting Sergeant', a traditional war song arranged, updated and delivered in a superbly rousing fashion reminiscent of classic Pogues material. Another brilliantly characteristic vocal from Friend tells the story of a lowly thief who after a court appearance, is approached by a recruitment officer and signs up for life in the army.
The lyrics make up a letter back home to his sweetheart, and although the musical backdrop may be upbeat and jaunty (and with a mass singalong chorus) the song is underlined with true poignancy as the soldier advices others not to "follow me and die" and after meeting his end, warns that the best thing to do if you see an army recruitment offer is to "run away". It's a superb ending to the album that ensures the record goes out on a high with a proper Levellers classic.
This is music of the times, although the themes of war, anti capitalism, abandoned sections of society and life as a traveller have always been at the heart of the band's music since they formed way back in 1988. Nearly 25 years into their career their latest work marks a fine period in the group's existence and delivers another creative and artistic highlight.
As well as serving up a number of their best songs in at least a decade, 'Static On The Airwaves' provides us with the Levellers' finest and most consistent record since 1995's classic 'Zeitgeist'.
8.5