The later days of The Beach Boys' recording career reflected a sad decline. Following the pop glory of the early 60's and the creative high of the mid to late 60's, the 1970's saw genius Brian Wilson finally crack under the weight of artistic pressure, drug addiction and mental health issues. The records became less frequent and yielded progressively weaker results. Perhaps they felt like they no longer had it in them to produce music that would do justice to the band's legacy. 1992's nauseating 'Summer In Paradise' proved that after the 80's they should have stayed well away from the studio. After Brian bailed out completely, Al Jardine also left, and Carl Wilson passed away years after brother Dennis's death. It looked like The Beach Boys were doomed to be a poor nostalgia act, reduced to a brand name with the only remaining members being Bruce Johnson and the deeply unpopular Mike Love.
No one could have ever predicted Brian's inspirational revival in the last decade, certainly no one could have thought he would return to re-record and tour 'SMiLE', the album that played a role in his breakdown. After facing those demons, perhaps the even more unexpected reunion of the surviving Beach Boys symbolises Wilson coming full circle. It's been a long time since the last Beach Boys album that featured Brian as a songwriter and performer, in fact we have to go back to 1986's self titled effort. The group getting back together was miraculous enough, but the news of a brand new album to mark the band's 50th anniversary sounded like it was probably just going to lead to a collection of unnecessary re-recordings of their classic hits. Luckily this is not the case, and these 12 new songs ensure that the tragic period of the 80's and 90's were not to be the last days of the group, instead this album gives them the chance to end their recording career on a relative high.
But is their first proper LP in 27 years any good? This isn't Pet Sounds, SMiLE or a similar groundbreaking work of creative exploration, this is five old friends getting back together for a misty eyed trip down memory lane. It opens with the hauntingly blissful harmonies and mournful piano of the brief 'Think About The Days' before kicking into the uplifting title track, which musically suggests a celebratory relative of 'Warmth Of The Sun'. Lyrically it dreams of the golden days when they were young men cruising around in the sun, blasting out rock 'n roll from their cars. One criticism is that the production at times sounds rather bland, but then again you'd hardly expect the guys to experiment with samples, drum loops and cutting edge sounds at their age.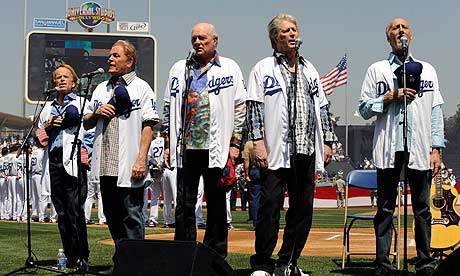 In the hands of anyone else 'Isn't It Time' would come across as very cheesy indeed, but as a Beach Boys song it works wonderfully and will certainly bring a smile to many faces. The lyrics sum it up perfectly: "Isn't it time we danced the night away, how about doing it just like yesterday...". 'Spring Vacation' however IS a bit on the cheesy side and comes with some rather lame, obvious lyrics. Mentions of "good vibrations" hardly help matters, but it's hard to hold this against them, after all this is five old pals reminiscing about the glory days and looking back to their past with fond memories. It's hard to understand exactly what 'The Private Life Of Bill And Sue' is about, but after beginning with drum machines worryingly reminiscent of the awful 'Kokomo' it rises into a joyous good-time chorus blessed with more of those unmistakable harmonies.
The beautiful chorus of 'Shelter' bears shades of 'Don't Worry Baby' and 'Break Away' while 'Daybreak Over The Ocean' is a great song that would have fared better with a stripped down acoustic arrangement, instead of the cheap drum machines that invade it. But it's easy to ignore such complaints when the melodies are as wonderful as this and when the chorus harmonies hint at the lost "hum-de-da" section cut from 'Good Vibrations'. Another Mike Love composition 'Beaches In Mind' is easily the least essential track here, featuring a characterless musical backdrop and lyrics which become ridiculously cliched by this point. It's not a patch on the lovely 'Strange World' which comes complete with a grand 'Pet Sounds' arrangement and another excellent melody. The final three tracks seem to form a parting trilogy, beginning with the incredible 'From There To Back Again', sung beautifully by Al Jardine as he and the boys find themselves "thinking about when life was still in front of you".
On 'Pacific Coast Highway' their advancing years lend the song a truly affecting element and in 2012 the words seem to have a rather heartrending context: "sometimes I realise my days are getting on... sunlight's fading and there's not much left to say". But it's the closing 'Summer's Gone' that has the biggest emotional impact, beginning with distant, ghostly piano and a delicate guitar strum. As Brian delivers the lyrics, you get the feeling that this is most likely the final page in the Beach Boys story. In this context the "summer" could also be a metaphor for their youth. It's a sad and touching image as the 68 year old Brian decides "I'm going to sit and watch the waves" before ending with the final line "we laugh we cry, we live then die, and dream about our yesterdays". As the music fades into the nostalgically symbolic sound of the ocean waves, the album ends on an overwhelmingly emotional note. It was enough to reduce me to tears the first time I heard it, and provides a moving and fitting ending.
Sure, not all of the tracks are quite as perfect, and this album isn't a masterpiece, but only the coldest of hearts could dislike this touching collection of songs. The story has a happy ending after all. 8