Despite being an absolute music obsessive, I have never been to Glastonbury. I was planning to go this year but due to the tickets selling out fast, it was not to be. So once again I will be doing the same thing I've done since 1997 and watch Glastonbury on the BBC from the comfort of my home. No mud, no queues for toilets and reasonably priced food.... So in between working over the weekend I found time to watch a lot of the acts on TV and the BBC website. It was on the telly that I was awestruck by Radiohead back in 1997 and moved to tears by Blur's triumphant return in 2009 as well as witnessing every other Glastonbury since the mid 1990's on the box. And now with BBC Three and Four, they can show even more on TV.
Friday was a rainy day but with some pretty good acts. Not to mention Radiohead doing a not-so-secret set at The Park Stage, marking the first time the band have played material from 'The King Of Limbs' live in public. Sadly with it being a special show, the BBC weren't showing it, so I had to make do without seeing it. But with it being 2011 nothing is ever "secret" anymore, and the whole show was uploaded onto YouTube for all to see. 'Bloom' was odd, interesting and excellent live, 'Lotus Flower' had a nice groove to it and 'Give Up The Ghost' was beautiful. Thom perhaps wasn't in the finest of voice, but it didn't matter, since they did a fantastic job of bringing 'The King Of Limbs' to life on the stage, as well as playing a handful of tunes from 'In Rainbows' and ending with a stunning 'Street Spirit'.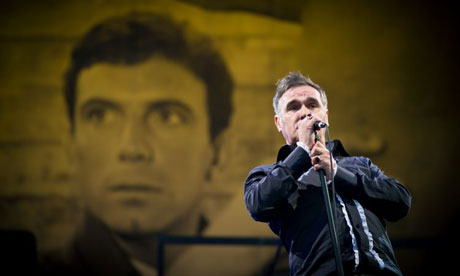 Morrissey was pretty damn good, although 'This Charming Man' sounded a bit too blunt, as did the other performances of old Smiths tunes. But for the most part Moz and his band were fantastic and the new material aired from his upcoming new album sounded great. As always, a hero.
As much as I love them, The Vaccines didn't really sound that great during the day. Maybe it was nerves but most of the set sounded rushed and hurried, and Justin Young needs to stop randomly slipping from singing to shouting during songs that don't sit well with it.. Fleet Foxes were a lot better, bringing the intricate folk sounds of their 'Helplessness Blues' album to an appreciative crowd. Playing The Other Stage to a massive audience, Mumford And Sons were class, and full of energy. The new material they played sounded fantastic and the crowd went wild for already classic tracks from their one album so far. Reggae veteran Jimmy Cliff proved to be a fantastic addition to the bill, the legend adding a much needed touch of experience to proceeding. Without a doubt, the man's passion and energy certainly hasn't been lost over the years, putting in a lively and touching performance.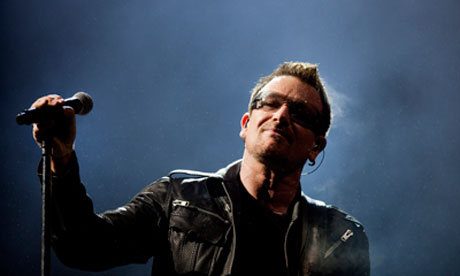 A lack of time and an early start next morning mean that I have had to record most the performances on my Sky plus box to watch later, but pleasingly I was just about able to stay up and watch U2's highly anticipated Glastonbury debut. Kicking off with an awesome 'Even Better Than The Real Thing' complete with some brilliant visuals, this definitely felt like a big occasion. The set seemed to lean heavily towards their early 90's 'Achtung Baby' album, but that was fine with me since I loved that record. A few of their lesser known songs were whipped out, providing an unexpected but great surprise. But when they pulled out the hits, they were unstoppable. I nearly cried during 'With Or Without You' at how incredible and beautiful it sounded. Bono's voice was astonishing and reminded everyone what a skillful singer he is. Any doubters and people who think it's cool to slag of U2 will be left having to re-think their opinions of Ireland's finest after this performance, and if they say it was crap then they're lying. On U2's Glastonbury debut, they were phenomenal.
Meanwhile on The Other Stage another stunning performance was taking place.... Primal Scream were tearing through tracks from 'Screamadelica' as well as playing other material from their legendary back catalogue. 'Movin On Up' was awesomely funky and as the euphoric sounds of 'higher Than the Sun' rang out into the night sky I bet there wasn't a single person there who'd regretted seeing the Scream instead of U2. Major acclaim must go to guitarist Andrew Innes who was coming out with some bewildering sounds, as well of the rest of the band who seemed to be on top form.
However I'm still of the opinion that they are over-extending 'Loaded' during their live sets, although it undeniably still sounds great. And 'Come Together' was utterly blissful. Unfortunately there was no time for 'Vanishing Point' or 'XTRMNTR' material, which would have lent the performance a darker and heavier edge (very much like their brilliant set in 2005 there). Instead they opted for their 2006 hit 'Country Girl' plus 'Jailbird' and 'Rocks' from 1994's 'Give Out But Don't Give Up'. I think tonight the Scream just wanted to make people dance. And they did it brilliantly.
Saturday brought music from The Horrors who were debuting tracks from their upcoming 'Skying' album. Their hypnotic psychedelic grooves were just what the festival needed. Later, on the main stage Elbow brought their soaring, heartfelt anthems to Glastonbury with incredible effect Beginning with a stunning version of 'The Birds', Guy Garvey and co truly made their presence felt. Not once over the weekend did anyone bond with the audience as much as Garvey did, and he was clearly in his element loving every second of it. A glorious 'One Day Like This' proved a perfect end to a magnificent set.
White Lies were elsewhere, also providing a fantastic sunset soundtrack, while Pulp took to the Park Stage for a "secret" performance that proved to be one of the weekend's highlights. Jarvis was in great form and entertaining the crowd between songs is never difficult for a character like him. The band played classic after classic and brought some utterly glorious nostalgia to the festival. Next time, let's have them on the main stage.
If this year's festival was slightly lacking in dance music (well TV coverage of it anyway) then The Chemical Brothers made up for that with an electrifying set, with recent tracks sounding even better live, and aided by the most awesome light displays and graphics. Plus as usual they were very loud.
The cynics can say what they like, Coldplay are amazing and on Saturday night they headlined in superb style. Mixing brilliant new songs with anthemic renditions of old classics from their career and with the band clearly enjoying moment of it. Coldplay seem to reach new levels with every Glastonbury they play, each performance over the years seems to have a milestone in their career as a band and this year they reached even higher peaks. Plus making the Pyramid Stage throb with pulsating colours during the closing 'Every Tear Is A Waterfall' was a fantastic sight and sound.
Sunday was the final day of the festival, and despite a plague of woefully shite acts on the main stage, Sunday turned out to be a great day. On the BBC Introducing stage Margate outfit Two Wounded Birds impressed majorly with their dreamy surf reveries. 'Together Forever' was great fun and 'My Lonesome' was blissful. Hopefully in a couple of years time they'll have progressed onto a larger stage.... On the main stage Laura Marling was brilliant, and treated the audience to tracks from her new album, an audience who were able to stay quiet enough to properly take in the brilliant songs this lady writes. The other highlight of the Main Stage on Sunday was Paul Simon, a man whose music I have never really explored up until I was truly captivated this performance. In particular 'Diamonds In The Soles Of Her Shoes' sounded amazing.
Bellowhead graced the West Holts Stage with their traditional folk music, which went down a storm, the band's performance being absolutely masterful. And the upbeat nature of these songs provided the perfect soundtrack for the day's blazing sunshine. But the highlight of Sunday arrived in the form of a heavily bearded Mark 'E' Everett and his Eels. Grinding out mean, meaty renditions of tracks from their marvellous back catalogue, E was in great form. Some quirky moments and some darker moments, but all fantastic.
For the final evening of the festival I wisely chose not to watch Beyonce on the Main Stage, instead opting for the party sounds of soul veterans Kool & The Gang, who proved to be just as funky and energetic as they were all those years ago. But surely that singer looks too young to be an original member of the band? Never the less, they were pretty damn good. Even better was Gruff Rhys who headlined the Park Stage with an impressive backing band and playing a great selection of his solo work. His brand of humble psychedlica sounded lovely and made for a great climax to The Park Stage's weekend of up and coming groups and "secret" shows from legendary bands.
And finally it was left to Queens Of The Stone Age to finish this year's armchair Glastonbury experience for me, and they did it well, bashing out a solid set of their greatest hits. If this year's festival was lacking in heavy sounds then Josh Homme and co made sure they well and truly provided the fierce rock anthems. A job well done.
So that's Glastonbury over for another year, and it won;t be back till 2013. In hindsight, 2011 may not have quite been a vintage year but it still threw up plenty of treats and some very pleasant surprises and saw certain bands move up a notch in their careers. Even if half the line up was shit, the good bits are always worth witnessing. Now I will once again make the promise to myself that "next time I will definitely be going", but that remains to be seen. But for the last decade or so, watching it on TV has been more than a happy compromise.......